By Melva Robertson | Woodruff Health Sciences Center | May 19, 2016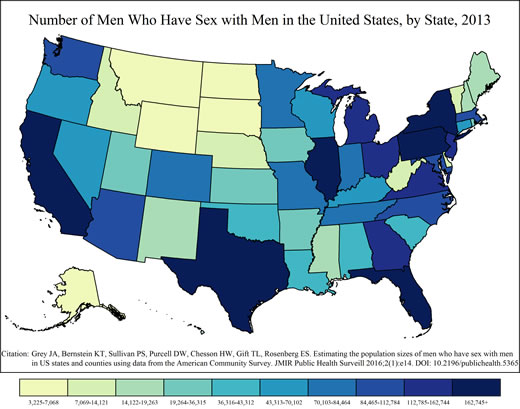 Number of men who have sex with men in the U.S., by state, 2013, per data collected from the American Community Survey. Originally published in JMIR Public Health Surveillance, 2016.
See the Emory Coalition for Applied Modeling for Prevention (CAMP) web site (www.emorycamp.org) for more maps and data.
In the United States, the burden of HIV is disproportionately high for men who have sex with men (MSM), who account for approximately two-thirds of all new diagnoses each year. Results from a new study estimating rates of HIV prevalence (number of people living with an HIV diagnosis) among MSM at local levels highlight areas where gay and bisexual men are at greatest risk for HIV infection. Focusing on these areas will allow health departments and community-based organizations to provide HIV prevention and care resources to MSM who need them most.